BTCChina and More Chinese Exchanges Announce Trading Closure
14 September, Shanghai-BTCChina, the longest-standing Bitcoin exchange in the world, announced closure of trading by 30 Sep, 2017. Today Viabtc, the new Shenzhen-based exchange, released a notice on trading closure as well. The market are waiting for news from OKCoin and Huobi anxiously to confirm the de-Chinalization of Bitcoin.
BTCChina was founded in 2011 and has been the portal for many bitcoiners to lay hands on their very first BTC. The statement pinned on top of BTCC's weibo triggered around 5,000 reposts and over 11k likes. Many expressed gratitude, pity, good wishes and hope for a brighter tomorrow.
"1. BTCChina suspends new user registration from today on.
2. All trading business on the exchange will be halted on 30 September, 2017.
The mining pool service is not impacted and will continue normal operation."
"The decision was based on policies issued on Sept 4 by the PBOC and 6 other regulators over the risk of fundraising through ICO"
said the BTCC statement.
Viabtc, the Shenzhen-based exchange that was launched in June this year, releases the closure notice 14PM today, asking users to withdraw funds from the platform by 30 September.  Viabtc has been a firm supporter of Bitcoin Cash by being the first exchange to list BCH trading in the community.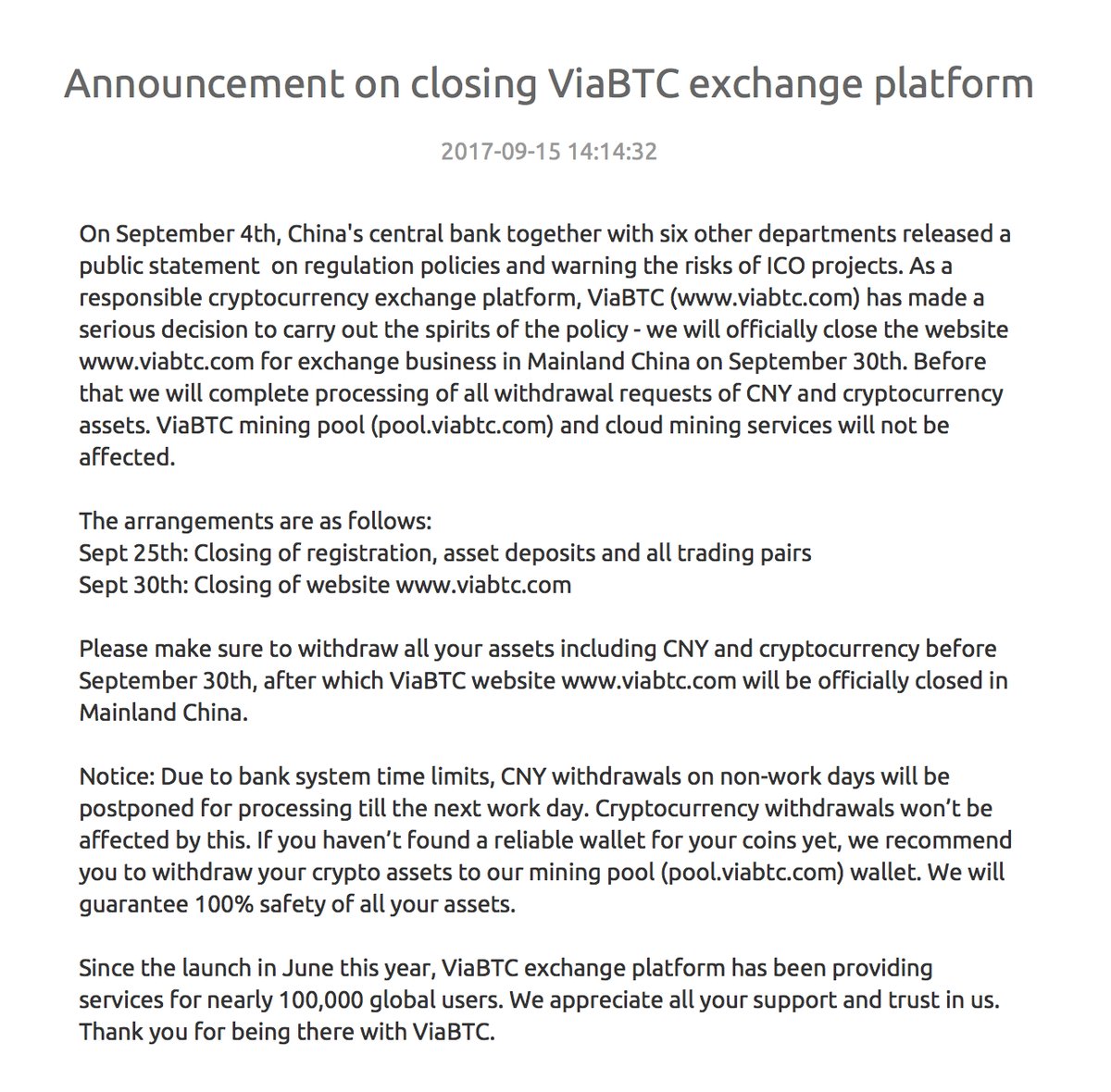 Doubts and uncertainty over the "exchange closure" came to a halt. Bitcoin price plummeted to around 20,000 CNY (~USD 3,050) at press time.
Tracking down the source of the harshest regulation measure, some analyst found that the definition from top regulators varied a lot.
Bitcoin was defined as "virtual commodity" in the document released by PBOC and 4 other institutions. 4 years later, Bitcoin and other ICO tokens are defined as "virtual currency". Commodity and currency are two different conceptions with the latter often involves with the right to print money.
ICO is considered a form of illegal fundraising and banned in China as per the regulation. Then relevant exchanges and medium platforms suspended ICO coins trading and started refunding procedure, hoping to survive under the brewing storm but failed.
BTCChina was the first to list ICOCOIN trading among the "Big Three" Bitcoin exchanges. Some optimists believe that's the why BTCC was ordered to stop operation and the other two exchanges, OKCoin and Huobi, would be spared.
Traders are turning to OTC exchange like Localbitcoins or trading in meetup. Some exchanges are exploring overseas potential like OKCoin.
BTCChina closure signals the end of transaction on exchanges. The community will remember the achievement and contribution of the pioneers. Ahr999, founder of cybtc, says it well:
Ahr999:
Thanks BTCChina for introducing Bitcoin into China. Thanks BTCChina for facilitating our transaction in last couple of years. A legend ends while a new journey starts. Wish you a brighter future!