With Revenue of 1.2 Billion & 50% ROI, Canaan (Avalon) Applied To List On NEEQ
Although it is still a long way to go for China in leading the world's integrated circuit technology, the world's top three producers of digital currency mining machine are all based in China, they are AntMiner of Bitmain, Avalon of Canaan and Ebit of Ebang.
Canaan, world's 2nd largest bitcoin mining machine producer, nearly 100 % of its revenue comes from sales of mining machines known as Avalon. As of the end of April 2017, it has sold about 160,000 mining machines of Avalon project and accounted for 22 % of the global bitcoin computing power.
A small mining machine bears enormous wealth. Canaan's annual net profit was 2.24 million for year 2015, and 300 million in 2017 with increase of 125 times in two years. The company submitted its application for listing its shares on NEEQ (National Equities Exchange and Quotations) know as China's over-the-counter exchange for growing enterprises in August 2017, and once it is listed, it might be one of the most potential digital currency stocks in the world.
Avalon: World's 1st commercial bitcoin mining machine
Bitcoin mining farms is arguably the perfect invited investment for local governments. Mining farms provide a solution to the electric power surplus in western China like Sichuan and Yunnan. It is no doubt a boost to the local consumption and employment without pollution.
Bitcoin mining rigs
The era of using personal computers to mine bitcoin has been over. To mine bitcoin, a professional mining machine in a mining farm is a must. Avalon was born as the world's first commercial professional machine for bitcoin mining.
Avalon 1 could be ordered on Taobao.com in early days at the price of 9,200 CNY for a unit. At that time, an Avalon miner could mine more than 10 bitcoins a day on average. The return was so good that it could easily cover all the costs with mining for only several days. Some found this lucrative to buy in at a low price and then sell it with the price highly up to 400,000 Yuan per unit for its overwhelming popularity but shortage with the pre-sale mode.
Computing power is productivity, the bigger the computing power, the more it can mine. Subsequently, the company successfully developed A6, A7, and now a global leading A8 whose computing power reaches 13T, and the A921 coming soon has computing power of at least 15T.
Avalon Miner
Avalon741 out of stock shown on Bitxixi.com
According to the Prospectus, Canaan's mining rigs is priced from 3000 to 4500 Yuan, which is really a bargain compared with its rivals. It is joked that its mining machines are liken to cellphone of IPhone but at the price of Mi. Together with the bitcoin manic, the price of mining machines has a corresponding rise. While it still sells good with A741 priced at 15,000 Yuan on Bitxixi.com and its rival's 3 best sellers priced at 17,500, 24,900 and 33,500.  
3 billion valuation's not enough,  Canaan march into capital market
From a workshop started by several geeks to a worldwide known bitcoin miner, it takes Canaan only three years.
In April 2013, Canaan, or Jiananyunzhi, was established by Zhang Nangeng (NgZhang) and Li Jiaxuan with 100,000 Yuan as startup capital in Beijing. The following four years witness the company's registered capital turn over 3000 times to 300 million by 10 capital increases. In a strong wind even turkeys can fly. An equity transfer in April 2017 showed that the company is valued at 3 billion yuan.
Today, the company's valuation shall go well beyond that as it continued to skyrocket in 2017, with revenue tripled and net income increased fourfold.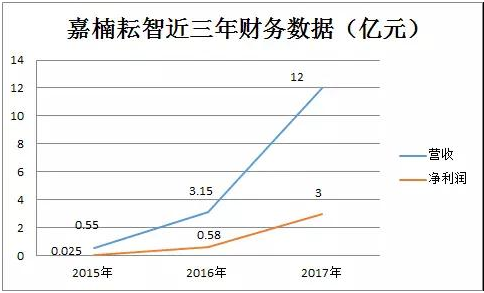 Financial data of Canaan for the recent three years
Cutting-edge technology and extremely competitive price explain the income skyrocketing of Canaan. In 2017, the company's revenue has exceeded 1.2 billion yuan with net profit over 300 million. That is as 20 times and 100 times as 55 million worth revenue and 2.5 million profit in 2015.
With such great performance, most of Canaan's revenue comes from selling mining machines to individual clients, of which almost half is paid to its Taiwan-based supplier, TSMC (Taiwan Semiconductor Manufacturing Company).
TSMC - the unseen winner
There are mainly 400 clients, among which more than 97% are domestic individual clients, mainly distributed in Sichuan, Yunnan, Inner Mongolia and other regions where power resources are relatively rich. Only two clients are companies shown in the table, and they are conducting resale business.
About its supplier, Canaan adopts the Fabless business pattern, centering on design and sale, leaving the production sector to TSMC, the famous world's leading chip maker, who is the monopoly producer of iPhone's chip. To achieve the fastest operation speed, Canaan spends a lot for its chips.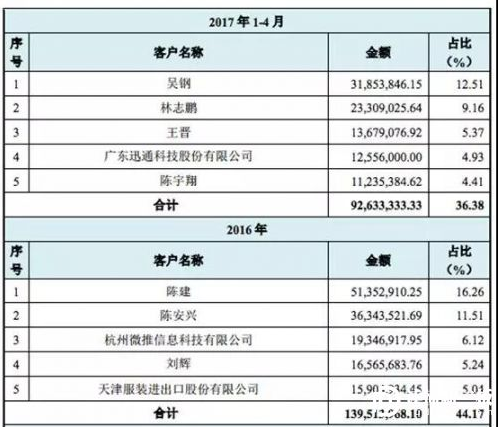 In 2015, it paid 58.12 million yuan to TSMC with revenue being 55.31 million;
In 2016, it paid 186 million yuan to TSMC out of 316 million revenue;
In 2017, it is estimated 500 million is paid to TSMC out of 1.2 billion revenue.
That is, in three years TSMC alone has earned more than 700 million from Canaan.
It tells us the rule that if you don't have the core technology, most of you have earned will go into the pocket of those who have it, just like the phenomenon in the bitcoin market. New bitcoin investors fall behind bitcoin whales, and whales are after the mining farms, while mining farms need Canaan (Avalon), but it finally turns out that most of their money goes into the pocket of TSMC.